Today marks the initial release of SeatGeek 3.0 for Android. Much has changed since 2.0 was released last fall, all in the spirit of making it easier for you to do everything you love to do with SeatGeek. You can track your favorite teams and artists, see high-res views from every section of a venue, and — of course — buy tickets.
Let's take a look at what's changed since our last major release.
Save your payment and shipping information, and buy tickets in seconds. New in today's release is a feature that eliminates everyone's least favorite part of buying something on your phone — having to enter your billing and shipping information … Every. Single. Time. With SeatGeek 3.0 for Android, you can store your credit cards and delivery addresses. When you find the perfect tickets, just select a saved card and address, click "Buy Now", and presto, you're done! Ship tickets to your home, office, or a friend, and never worry about entering the same information twice.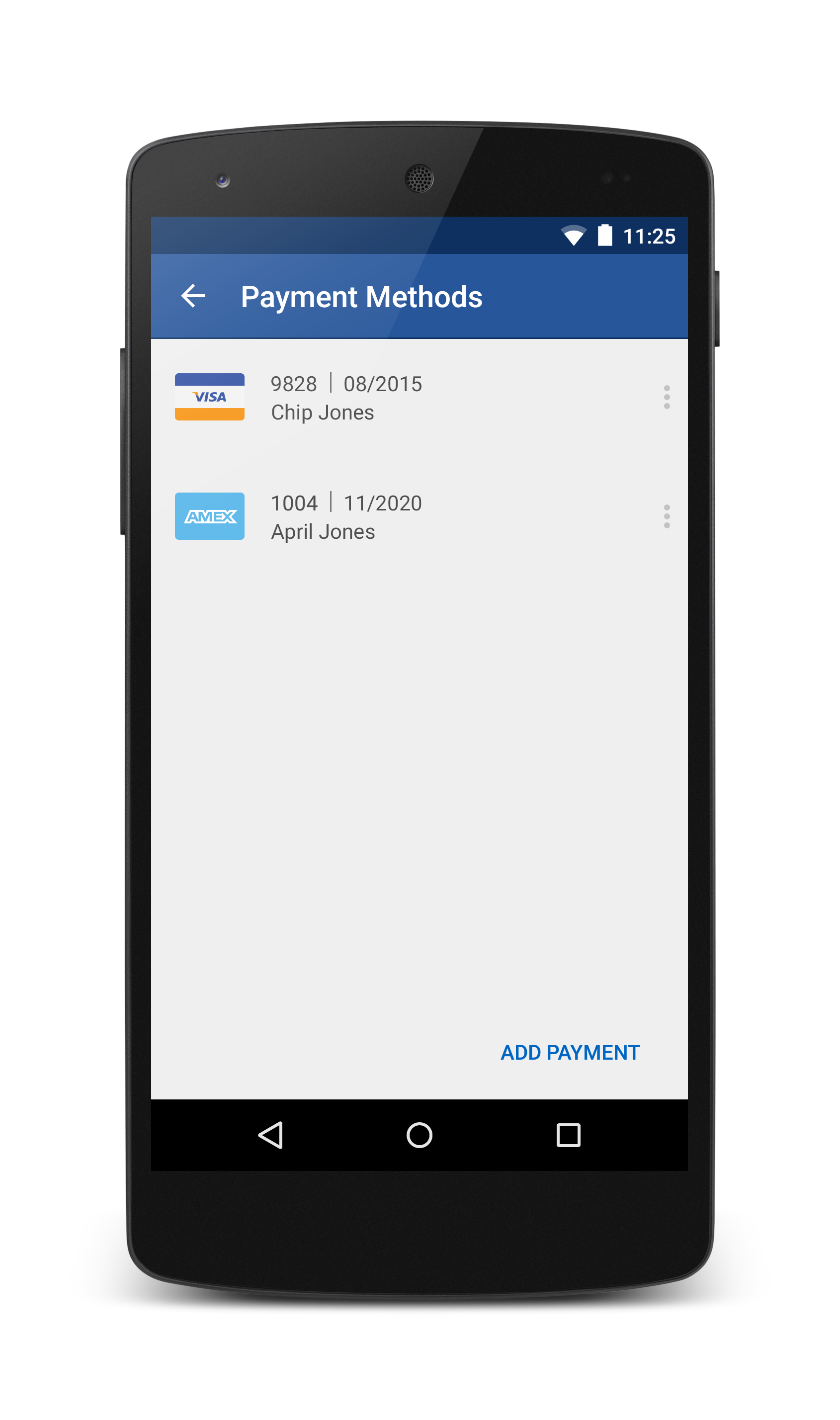 Import your favorite teams and artists. We've added the ability for you to connect your Facebook account and favorite music services to your SeatGeek account. Once you've connected, SeatGeek will provide you personal event recommendations based on the teams and music you love, and you'll receive notifications about games and shows near you.
Find and edit important account information from the redesigned Settings view. As part of a broader material design integration, we've updated Settings in today's release to make navigating the details that power your SeatGeek experience simpler and more intuitive. You can come here to edit your location or add favorite performers from connected services for new event recommendations. All your payment information is accessible here as well in case you need to add, delete or update a credit card or delivery address.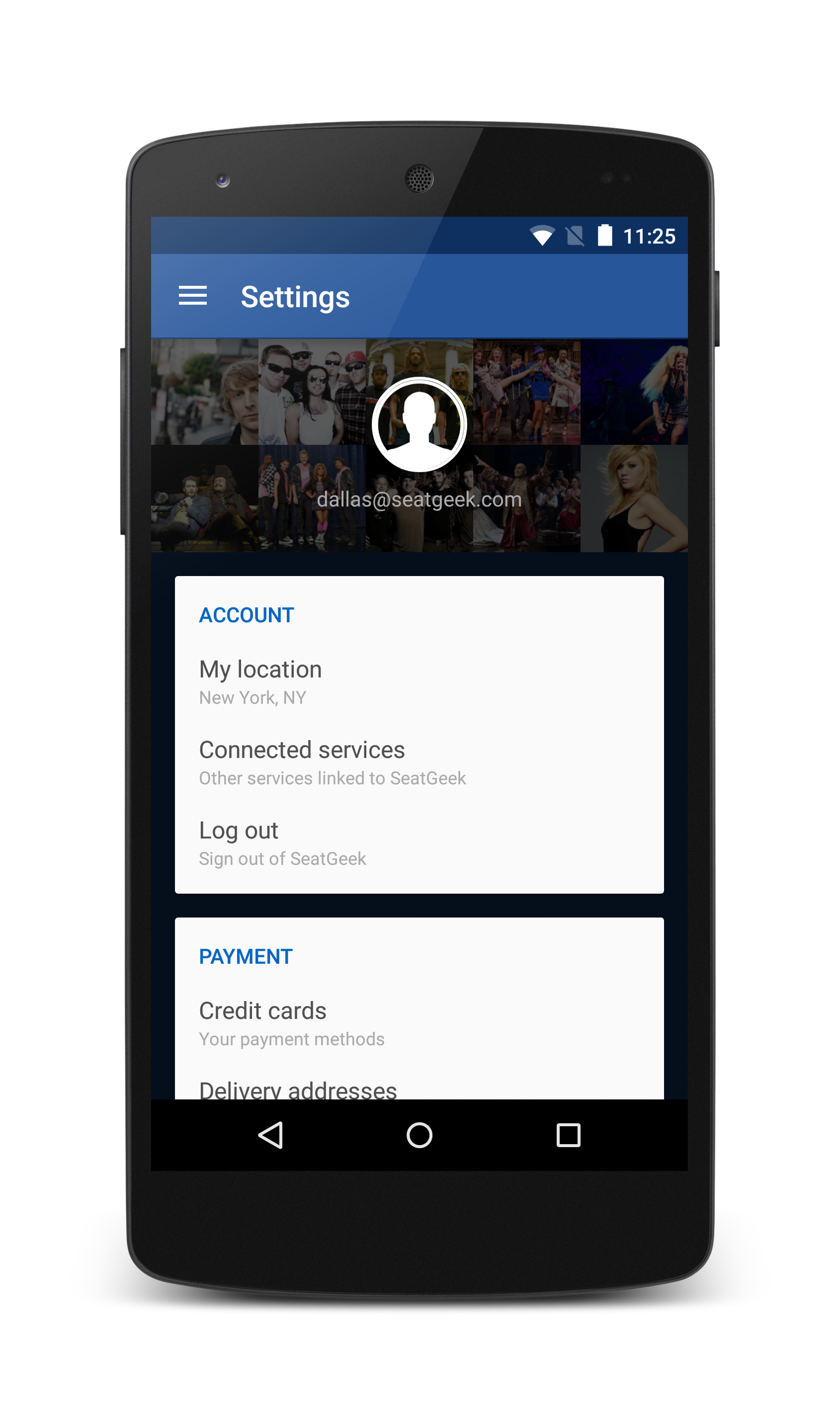 Get money back with promo codes. Maybe you've heard a SeatGeek ad on the radio, received a card in the mail, or seen us on the subway. Notice the promo code in those? Now you can enter it in the app and have that offer instantly added to your account. Next time you grab tickets for an event, your rebate is automatically triggered. Same tickets, even better deals. Nice!
See the view from your seat — before you get there. This fresh design lets you feel what it will be like to be at your event with full-width view-from-seat images. Without even having to scroll, you'll also see key information about the event, seat location, seller, and ticket price. You can change the number of tickets you'd like and choose from your saved payment and delivery addresses, or stick to the defaults and buy immediately from this screen.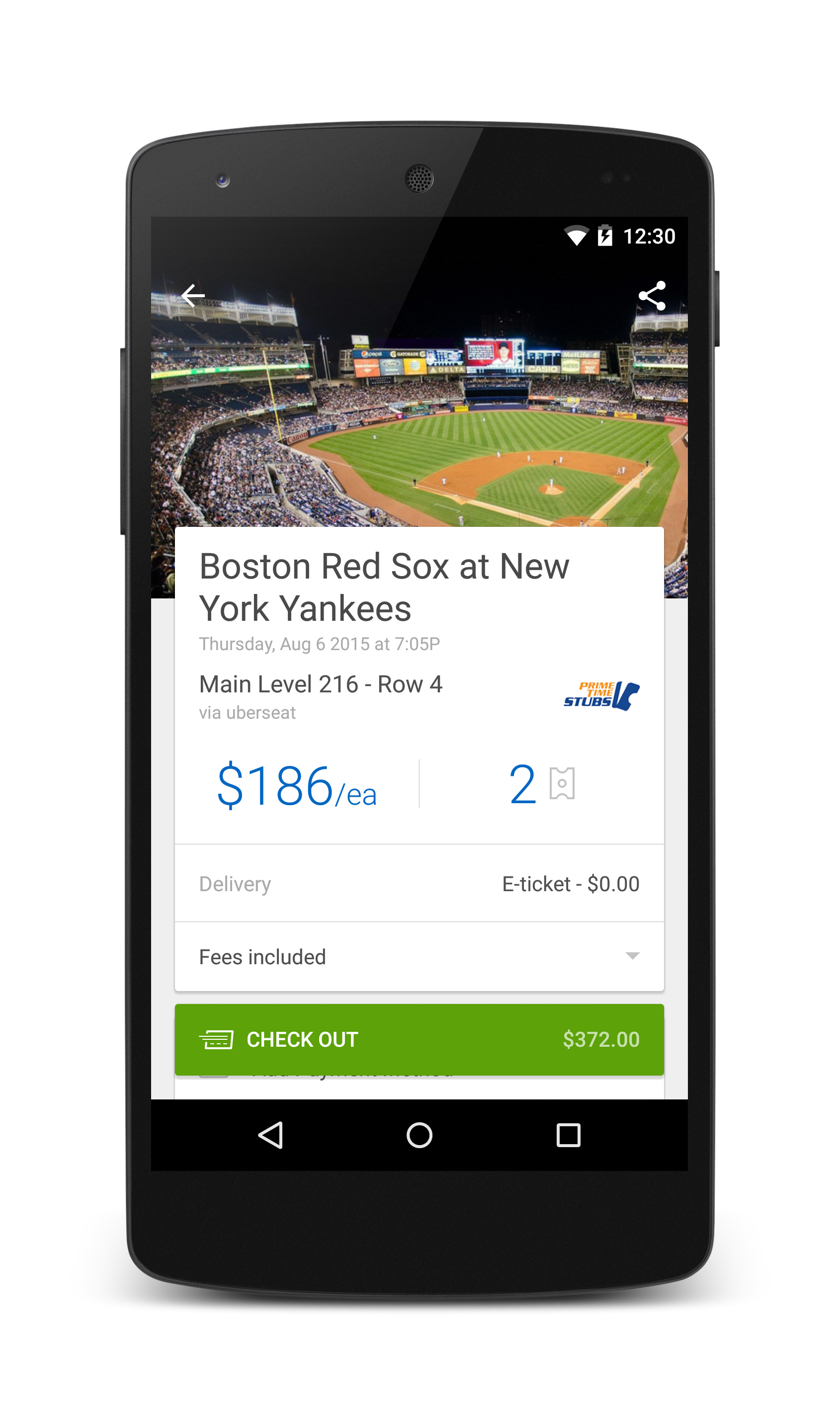 The updated Android app is rolling out to users this week in the Play Store, so check it out when you get the update, and let us know what you think!